Hydraulic Cylinder Seals
Hydraulic cylinder seals are commonly found in applications where components are exposed to liquids…
They play a vital role within the hydraulic system, as they enable the transfer of liquid power into linear motion. The hydraulic cylinder seals are manufactured from a variety of materials including rubber and polyurethane. Known for their durability under appropriate application settings, these seals can however fail or cause serious problems / damage if settings are not correct. Oil contamination, high temperature, chemical erosion or inadequate installation can all cause hydraulic cylinder seals to fail leading to damage in the wider system.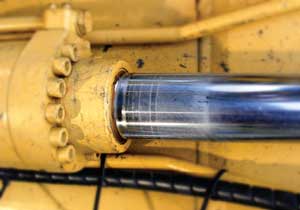 Oil Contamination: Contamination within the system is a main cause for the hydraulic cylinder seal failure. Hydraulic oil contamination increases the risk of internal leakage as well as reducing the control of flow and pressure in valves, which could eventually waste horsepower and overheat. Contamination can form from hydraulic oil, environmental exposure, system wear, the manufacturing process and servicing. Contamination can get into the system when the rod retracts, so it is best to consider the installation of a rod wiper. If hydraulic oil is filtered appropriately, this oil contamination can be prevented. If you start to notice a scratched rod and cylinder surface, extreme seal wear and an oil leak, it may be the result of contamination and your oil needs to be thoroughly cleaned as soon as possible.
High Temperature: If hydraulic cylinder seals look hard and brittle, or the seal lip or body is eroding, the temperature of the oil in the cylinder may be too high. High temperature for a long period of time may result in the seal losing functionality, either by excessive compression or damage to the seal material. This could be due to the seals not being manufactured with the right materials, too much friction or close proximity to the source of heat.
Chemical erosion: If the inappropriate material is used within the hydraulic cylinder seal, it could lead to a serious chemical breakdown, or could change the compounds of the oil altogether. This causes chemical attacks from the additives in the oil on the non-compatible material which can reduce the seal's elements. A result of the chemical breakdown is the loss of the seal lip or too much swelling or shrinkage. A more obvious sign of a chemical breakdown can be discolouration of the hydraulic cylinder seals.
Inadequate installation: One of the main reasons for hydraulic failure is inadequate installation. It's vitally important that when you are installing a seal that: the equipment must be thoroughly cleaned, the hydraulic cylinder seal cannot be damaged by scratches and that the entire system is sufficiently lubricated. If the seal gland is too tight or a gland is obstructing a seal lip, this could also cause problems. A seal that has been installed upside down can be avoided through care and attention during installation.
Our catalogue showcases some of the hydraulic components and hydraulic cylinders that we regularly supply within our extensive range. It is only a small sample, however, so if you can't find what you're looking for complete our Stock Enquiry Form or call our sales team. They have over 80 years' of technical experience between them and, as our library of  customer testimonials shows, they know their stuff!
Call us now on: +44 (0)845 644 3640 or enquire online and "let us take the pressure!"